Keeping The Lights On
Your home should be your safe haven — even when the power goes out. A residential Generac generator is a great way to ensure peace of mind, knowing your family won't be without power ever again!
At. M.W. Butler Electrical, we sell, install, and maintain Generac generators, the leading brand in home backup generators. We believe in installing only the highest quality products for our customers which is why we stand behind the Generac name.
Generac generators can meet any need or budget, whether you're looking for a whole house generator or just power for the basics. These backup generators are installed outside of your home, just like an air conditioning unit. They run on natural gas or liquid propane fuel, whichever is available in your area and send power to your electrical system in the event of a power outage.
Protect your home with a high-quality standby generator. Contact the generator mechanics at M.W. Butler to learn more about available generator services and options.
Residential Generator Maintenance Plans
A home generator acts as a source of backup power in the event of an outage. It can give you peace of mind knowing that your family is prepared for every situation and will not go without lights, heating/cooling, and everything in between.
In order to have the most confidence in your generator, regular home generator service is a must. Just like an automobile, a home generator should be serviced routinely to ensure it operates properly and reliably.
At M.W. Butler, we offer preventive generator service packages to ensure the efficiency of your home generator when you need it most. Our professional electricians are skilled in generator repair and maintenance for many different brands and models.
Our residential maintenance packages include:
Changing oil and spark plugs
Changing air filters
Checking fluid, terminals, and cables for malfunction
Checking the battery charge
Test running the generator
Just like anything else, your generator should be taken care of in order to ensure it will operate at maximum performance. From simple oil changes to more complex issues, M.W. Butler is here to provide excellent service from start to finish.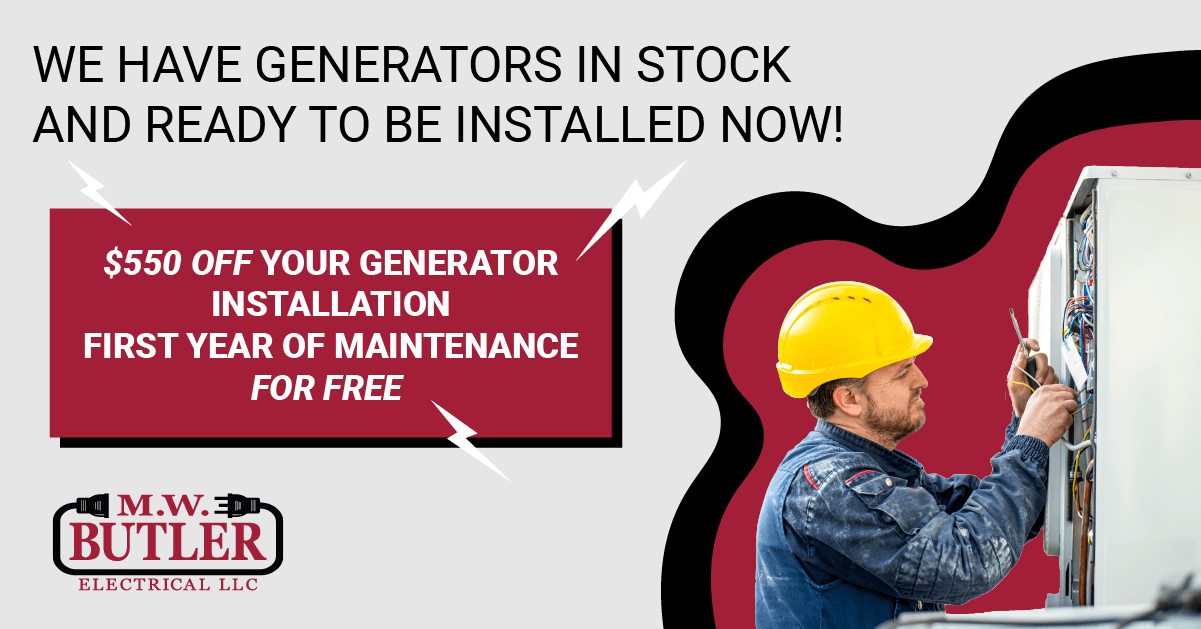 Give us a call today to receive $550 off your generator installation! Already have a generator? Switch to our maintenance plan and receive 10% off your first service.